Demand forecasting enables organisations to plan effectively for the future and understand the composition and seasonality of demand or other business quantities and metrics. In the policing context, demand forecasting helps forces understand how the composition of their expected policing demand will change over the coming years, provide insights around demand seasonality and helps forces attribute changes in demand over time to policy changes they have made.
Forecasting Insights and Decision Making
Demand forecasting tells an organisation what their demand will likely look like in the future if trends continue, which can be useful in a variety of ways.
Forecasting demand enables a police force to plan staffing and training to ensure they have the necessary resources in terms of people, equipment and budget, to meet the expected demand. Forecasts can also be used to infer the impact of policy change by comparing demand expectations to outcomes; a change in policy may prove beneficial if a change in demand beyond the expected change is seen after a policy has taken effect. In contrast, policy changes which do not seem correlated with a deviation in demand outcome, compared to forecast expectation, may not have had a quantifiable impact on that demand.
In the same way, forecasts can also reveal the impact of events on policing demand or other organisational metrics; the impact of COVID on forces across the UK being a timely example. Many saw spikes in anti-social behaviour and domestic violence during lockdowns, and new forms of demand associated with the policing of lockdown restrictions were introduced. Policing demand is highly seasonal, typically peaking in the summer months and falling lower over the winter tracking with human activity changes, with spikes in demand associated with particular holidays and other events scattered throughout the calendar. Understanding the patterns of seasonality and correlations with particular demand types and holidays or events can help forces adapt to these fluctuations in demand during the year and operate more efficiently.
By generating forecasts at different levels of an organisational hierarchy or demand category, a force can gain a granular view of demand expectations for different reporting needs, as demonstrated in Figure 1 below. Demand forecasts can be generated at the organisational top-level, to show how all demand is expected to evolve in the coming years, or at lower levels of grain, such as by crime type or by geographical area, as required for target setting or strategic decision making. Annually most forces are required to report crime demand statistics and forecasts to His Majesty's Inspectorate of Constabulary and Fire & Rescue Services (HMICFRS). Home office definitions of crime types are standardised across forces and forecast to generate a nationwide picture of the future of policing demand, which is critical to government planning and policy making.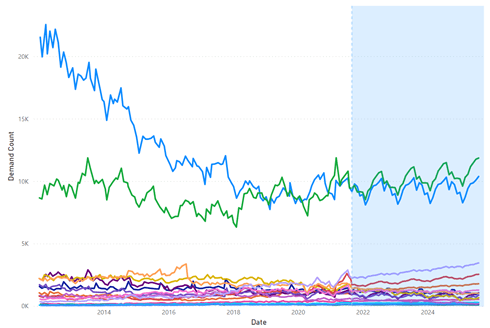 Figure 1: Example demand forecasts over a range of categories
Demand Forecasting at Scale
Demand forecasting at scale enables forces to generate large numbers of highly accurate forecasts. At Simpson Associates, our Demand Forecasting Solution uses machine learning algorithms and Azure cloud technologies, which are published in Power BI for organisational consumption, to support strategic and operational use-cases. Modern probabilistic forecasting tools enable us to generate precise forecasts at scale; our forecasting models learn the trend, seasonality and impact of holidays and events on the quantity of interest. They then project that relationship into the future to generate both an expected future demand time series and a confidence interval representing best-case and worst-case scenarios. By leveraging the cloud computing platform Databricks to prepare time series datasets and train our models, we can generate a large number of individual forecasts over demand categories of interest, in a modest time frame and low cost. We can use Azure orchestration technologies to automate the ETL of data from source systems and the refreshing of forecasts on a schedule if required.
All forecasting outputs (forecasts, evaluation metrics and other measures) can be stored and versioned in the cloud and imported to downstream applications or Power BI for consumption. In Power BI we are able to integrate forecasting datasets, with other organisational data to build out a full analytics picture of demand in the organisation, using dashboards. These dashboards can be published as Power BI web-apps or integrated into Microsoft Teams, for access across an organisation, allowing force analysts to mine the forecasts for insights, planning and decision making. If an organisation's forecasting data includes sensitive or personally identifiable information, elevated levels of security provided by Azure and Power BI such as the use of private networking or row-level security can ensure compliance with data protection standards and help safeguard sensitive data.
Conclusion
Simpson Associates can help your force deploy demand forecasting at scale, to understand the composition of the important work the police do in protecting and serving the community, plan for expected changes in workload, staffing or costs and quantify the impact of policy. Through dashboarding, these forecasts and other datasets can be presented to analysts in the organisation who may surface insights about how demand relates to risk factors such as geography, seasonality, or any other attributes of demand for which data can be gathered or collected. Our cloud-based solution is cost-effective, accurate and scalable and can be tailored to organisational requirements and specific use-cases.
Read more about our Demand Forecasting Solution here, to see how it could help your force forecast effectively.
Blog Author
Robert Constable, Senior Consultant, Simpson Associates
Back to blog