Platform Landing Zone
A secure and compliant environment to reduce risk and accelerate your migration and development of your Azure workloads.
Book a demo
Rapidly deploy key Azure Landing Zone components to securely migrate and develop workloads in the Microsoft Azure Cloud.
Simpson Associates Platform Landing Zone Accelerator centralises services that can be used across all Azure workloads, setting the guardrails for your Azure environment and future workloads, whilst providing broad and consistent configuration and security throughout.
A Platform Landing Zone can help you accelerate your cloud adoption by:
Reduce complexity & accelerate deployment
Reduce management complexity and accelerate deployments by employing a streamlined, standardised pre-configured approach to infrastructure setup.
Cost Optimisation
Standardised architecture using a landing zone simplifies management and governance, which helps reduce operational costs.
Configuration & Security Guardrails
Providing broad and consistent configuration and security throughout by enforcing security policies and best practices.
---
Why do I need a Platform Landing Zone?
Lack of a structured Platform Landing Zone in Azure can lead to operational inefficiencies, security vulnerabilities, and increased costs. By implementing a Platform Landing Zone, businesses can standardise deployments, enhance security, ensure compliance, facilitate scalability, and streamline operations. This leads to improved operational efficiency, cost-effectiveness, and agility, empowering your business to fully leverage Azure's capabilities and unlock the true potential of your cloud infrastructure.
---
Landing Zones
Deploying and managing data platforms in Azure without adhering to best practices can result in significant challenges, including inconsistent setups, security issues, scalability problems, and complicated cost control. Simpson Associates' Landing Zone Accelerator services address these challenges, ensuring Azure best practices are followed. Landing Zones standardise the approach to Azure deployments and management by enforcing policy driven guardrails, which promotes consistent setups, enhanced security, improved scalability, cost optimisation, and automation.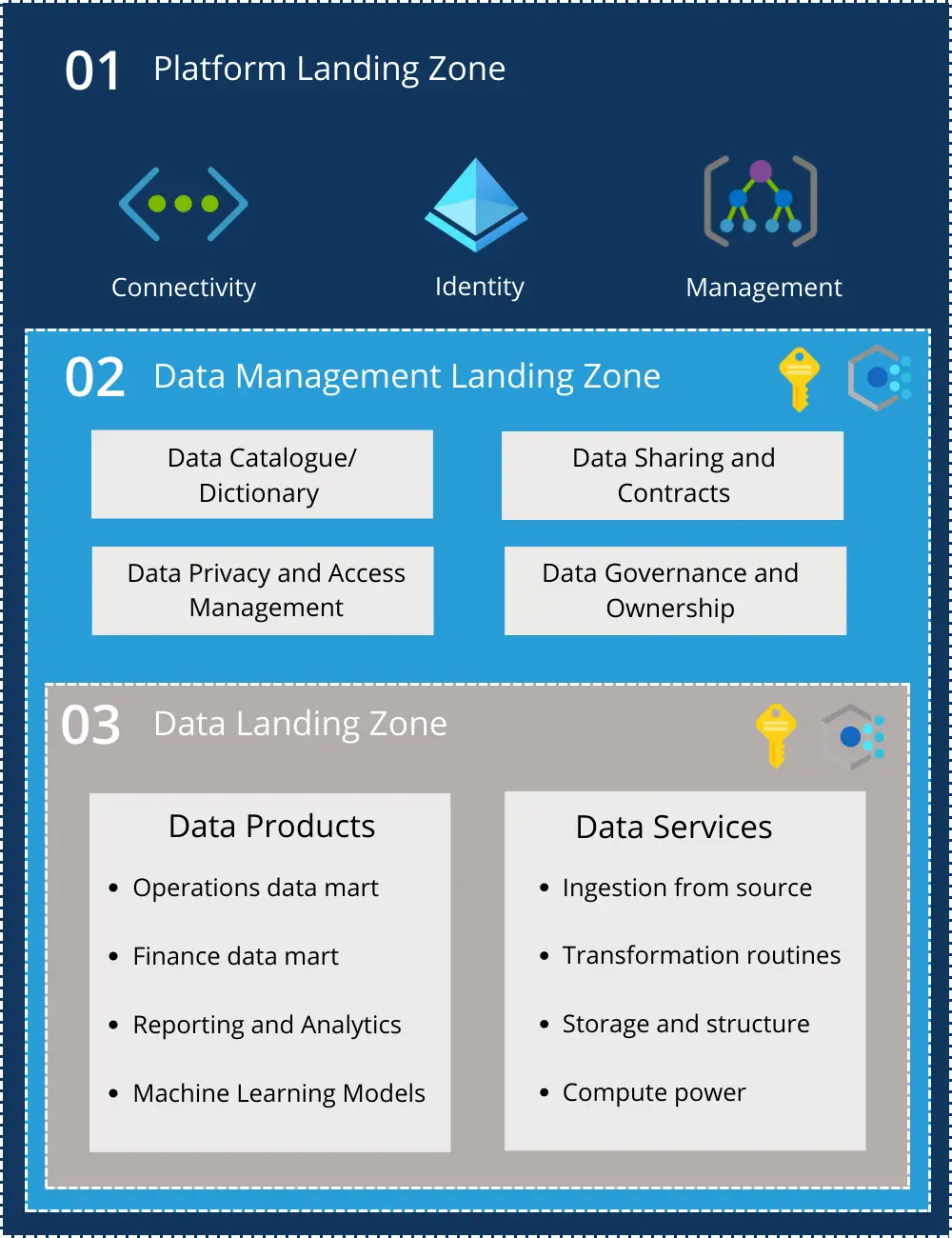 ---
Simpson Associates Delivery Process
Our approach to the Platform Landing Zone Accelerator will consist of:
Design Session:
We'll work with you to understand your organisation's needs and develop a customised overview session that meets your specific requirements.
Azure Bicep Template Creation:
Development of a customised bicep template based on the design session outputs.
Deploy your Landing Zone to Azure:
We'll deploy your Landing Zone to your organisation's Azure environment and associated target subscriptions, so you can start using it right away.
Design Documentation:
Documentation built around the design, including a Low-Level Design Document, High-Level Diagram, Network Diagram, Management Group Structure, and Security Group Structure.
Handover Session:
We'll provide you with an overview and walkthrough of the environment to ensure user understanding and satisfaction.
---
Why Simpson Associates
Simpson Associates is a premier Data Analytics and Managed Service Consultancy. We are a Microsoft Solutions Partner in Data & AI, Infrastructure and Digital, and App Innovation, and hold the Analytics on Microsoft Azure Specialisation. Our solutions help businesses to make better decisions using data. We are experts in deploying services on the Azure platform and can help you smoothly deploy your services.
Next Steps
If you are looking for a way to improve the security, compliance, efficiency, and cost-effectiveness of your Azure workloads, our Platform Landing Zone Accelerator is a great option. Schedule a complimentary consultation today to learn more.
Book your consultation today.