Error when trying change the format of a data Item (HAL Error – rs_fm_dta_frmt_props_en.xml)
In report studio when you try to change the format of a data item either by using the Properties pane and selecting Data Format or selecting the data Item in the List or Crosstab and right-clicking and select Style and Data Format. You receive this error message, and your report seems to hang.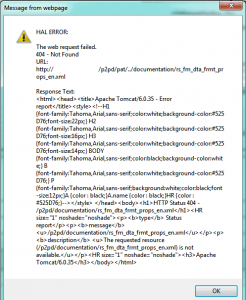 To resolve this error you need to locate the following file rs_fm_dta_frmt_props_en.xml in this location
C:Program Files (x86)IBMCognos Express ClientsFramework Managermsgsdk
Then copy and paste it to C:IBMCognos Expresswebappsp2pddocumentation
The services do not need to be restarted and next time you try changing the format all should work correctly.
Back to blog