The TM1 server crashes after the SaveDataAll process is scheduled to run as a chore. This can results in loss of data/changes made since the last successful SaveDataAll process was run, and will require the express services to be restarted or in some cases, the server to be restarted.
To resolve this issue, go to the CXMD folder and open the file tm1s.cfg in notepad. (Typical location of the file: C:Program FilesIBMCognos ExpressXceleratorCustomTM1DataCXMD)
Disable the Performance Monitor feature by setting it to false; PerformanceMonitorOn=F. Backup the file first to ensure you can revert any changes.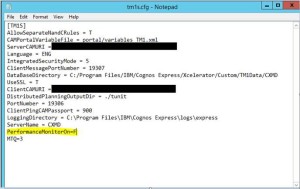 Save the tm1s.cfg file and stop the services in the following order:
1 IBM Cognos Express
2 IBM Cognos Analystic Server Admin Service
3 IBM Cognos Analystic Server – CXMD
Restart the services in reverse order.
IBM are aware of this issue and will be providing a resolution for it within Fix Pack 2 which will be available later this year.
Back to blog